Certifications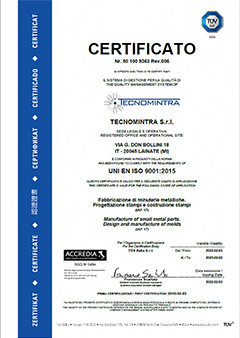 "Quality is the goal of a never-ending process" these are the words etched upon a historic metal plate that has remained affixed to one of the pillars on Tecnomintra's main building since the early years of its establishment.
In fact, the company's production quality is regularly monitored by qualified personnel, with the help of highly advanced systems.
Tecnomintra is highly dedicated to quality, and continuously invests in new technological monitoring methods and staff training updates in order to guarantee products that are entirely in-line with the Customer's requirements.
---
QUALITY POLICY
TECNOMINTRA S.r.l. relies:
On the definition of potential present and future expectations of both internal and external stakeholders by means of:
business activity,
product and service innovation,
customer satisfaction assessment,
HR management.
On technological product and service innovation by means of:
market needs,
value added service promotion to the customer.
On continuous improvement by means of:
continuously questioning our operations,
our organization's flexibility,
our staff members' professionalism.
in order to ensure the SATISFACTION of all internal and external stakeholders as a means for the Organization's continuous and steady development and for improving both product and service quality.